Tired of all the hassle and bustle of work or business? Or probably looking for a new place for your family, friends and co-workers to spend holidays, special occasions or events? But do not want too much traffic and travel time away from Metro Manila.
Then you might want to consider Rizal as your next destination, particularly Tanay in your next outdoor fun.
When I visited Tanay, Rizal last December, I stayed for three days and two nights at Momarco Resort and Hotel
Momarco Resort and Hotel is about an hour-and-a-half drive from Mandaluyong or Quezon City.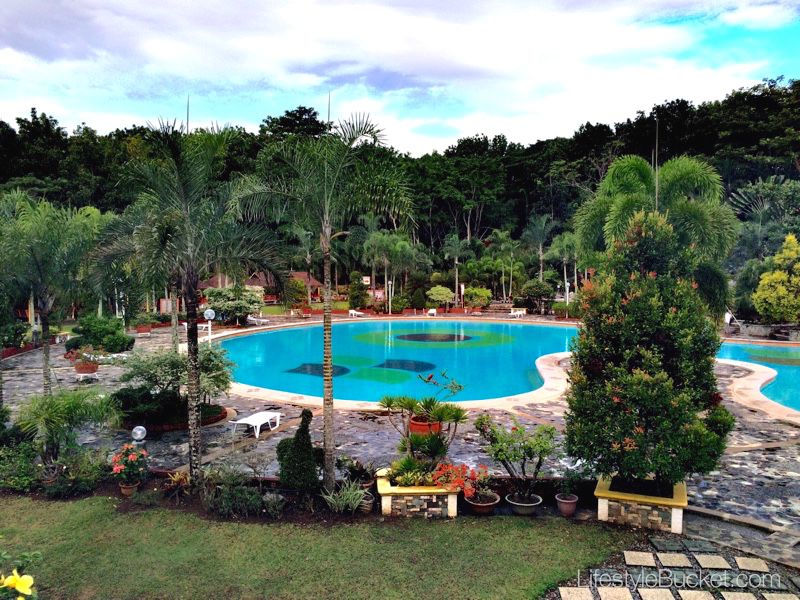 LOCATION
In a way, visiting Rizal for tour or stay is quite new to me. Most tourist destinations are located at the south or north of Metro Manila, not much in the east. That's why visiting Tanay and knowing about the place is a plus factor of Momarco Resort and Hotel.
Momarco is offering different types of tours within Tanay during your stay at their place. It my case, it was a bit of cultural and religious tour.
ROOMS and ACCOMODATION
This I must say is the best attribute of the whole Momarco Resort. With the whole property's huge area, Momarco was able to maximize its place to offer a wide variety of room types depending on the purpose and budget of guests.
If you're with a group (like convention, retreat, company outing or team building event), you can choose among the villas, group rooms or even the hotel.
BARRACKS
If you're on a tight budget, you can check in at Momarco Resort's barracks.
| | | |
| --- | --- | --- |
| |  Weekday | Weekend / Holiday |
| Barracks A (64 pax) |  P 425 | P 450 |
| Barracks B (88 pax) | P 425 | P 450 |
|  Extra mattress | P 400 | P 400 |
CASITAS
The Casitas is an instant favorite for me. It looks good inside and out. Its simple construction makes it look so cute for me. 😉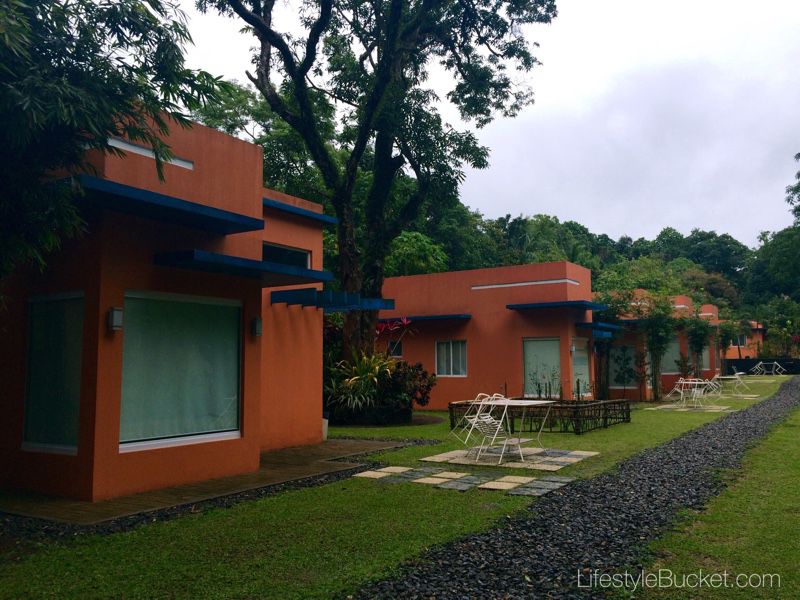 | | | |
| --- | --- | --- |
| | Weekday | Weekend/Holiday |
| Deluxe Room (2 pax) | P 3,250 | P 3,500 |
| Deluxe Room (6 pax) |  P 6,750 |  P 7,000 |
| Deluxe Room (7 pax) |  P 7,875 |  P 8,125 |
| Extra Mattress |  P 650 |  P 650 |
GAZEBO
There is also the Gazebo if you want to have your functions on top of your rooms, literally. Below the gazebo are rooms to house 10 people with amenities of kitchen for food preparation and cooking if needed.
| | | |
| --- | --- | --- |
|  GAZEBO (10 pax) |  P 6,750 | P 7,000 |
BAHAY NI INDAY
If you're a family of 6 or 8, this may be the ideal accomodation for you as it is basically a house inside the Momarco resort that is near the pool area. You have the luxury and convenience like of your own home in this 2-storey building.
| | | |
| --- | --- | --- |
|  BAHAY NI INDAY (8 pax) |  P 11,750 | P 12,000 |
CASA LUCIA
Now, if you are a bigger group wanting a more private event, then the Casa Lucia is the best for you. It is a single detached building, away from the hotel and the resort,which offers a great, serene ambience.
| | | |
| --- | --- | --- |
| CASA LUCIA (30 pax) |  P 18,500 | P 20,000 |
CAMPING
And, if you're the adventurous type wanting to camp out, Momarco can also accomodate you.
| | |
| --- | --- |
| Camping with own tent | P 350 |
| Camping with Momarco tent | P 1,500 |
AIRCON ROOMS
There are also budget aircon rooms in Momarco. These rooms are actually the first accommodations to be built in the property.
| | | |
| --- | --- | --- |
| |  Weekday | Weekend / Holiday |
| Regular Aircon Rooms (2 pax) | P 1,600 | P 1,700 |
| Regular Aircon Rooms (4 pax) | P 2,600 | P 2,800 |
| Regular Aircon Rooms (10 pax) | P 6,450 | P 6,700 |
HOTEL
There is also another building constructed to accommodate those people who want hotel-type of stay. Either solo, couple or group and family, the Momarco Hotel is a choice to stay when you're inside.
The common areas of the hotel gives a good picture of Filipino ingenuity as it showcases some custom-made furniture and fixtures inside the hotel, like the sofas, chandelier and tables.
The actual room is actually a big surprise for me. The room is adequately spaced – enough room for the furnitures, appliance, guests and their things.
My instant fave is the bathroom. Though it may lack bathtub, but the simple yet elegant set-up is comparable to other higher-end hotels (without tubs).
A nice add-on also is the balcony on each room. My room is fronting the sports center. Other rooms are fronting other locations, like the pool area.
| | | |
| --- | --- | --- |
| |  Weekday | Weekend/Holiday |
|  2/F Superior A (2 rooms) 1 Queen 60″ + 1 Single 36″ (3 pax) | P 5,625 | P 5,925 |
|  2/F Superior B (9 rooms) 1 Queen 60″ (2 pax) | P 3,750 | P 4,000 |
|  2/F Superior C (5 rooms) 2 Single 36″ (2 pax) | P 3,750 | P 4,000 |
|  Extra Mattress | P 650 | P 650 |
CABANAS
If you're just there for the pool and wouldn't want a longer stay in Momarco, there are Cabanas around the pool where you and your companion/s can stay while inside the resort.
| | |
| --- | --- |
|  Small Cabana (8-10 pax) | P 800 |
| Medium Cabana (11-18 pax |  P 1,000 |
|  Large Cabana (19-25 pax) | P 1,500 |
|  Extra Large Cabana (26-35 pax) |  P 2,500 |
Another good thing about Momarco Resort and Hotel is that there are lots of things to do around.
Pool
There is a pool for adults and kids. Around the pool are flat, green areas conducive for kids playing around and of course for selfies and groupies. Haha..
I wasn't able to swim during my stay, but the pools are beautifully crafted. There are three pools in Momarco. One big pool for adults, and two smaller ones for kids.
Mini zoo and aviary
Also, the mini zoo and aviary is both an educational and recreational activity not just for kids but for adults as well.
Sports and Recreation Center
For those wanting more, there are other attractions like a basketball court, tennis court, billiards, table tennis and dart plus, bike trail within the property.
PRICE
At price point, and flexibility of offerings, especially on accommodation, Momarco Resort and Hotel is very competitive.
From as low as P 450 per head per day, you can actually check-in, if you want to, or if you just like to have a day tour (swim), you can get in for only P 250.
FOOD
Momarco Resort and Hotel has its own restaurant offering a variety of food selections. I was able to try their some from their menu.
Their in-house resto offers breakfast, lunch, meriend and dinner. However, if you're the type of person who stays up late and eat at the wee hours of the night, then, you might want to order during dinner time or a bit earlier, since their food service is not open 24-hours a day.
PARKING
For those travelling with their own car, parking lot is ultimately not a problem there, even for bigger vehicles like coasters or buses. Momarco Resort and Hotel can pretty much accommodate a number of vehicles.
COMMUTING
You can take shuttles going to Tanay, Rizal from Starmall, Shaw Boulevard. When in Tanay, you can just ride the tricycle. Momarco Resort and Hotel can also arrange a pick-up for you in Tanay town proper for a minimal fee.
A BIT OF CONCERN
There is only one little concern when you go to Momarco. Even its management are honest about it, though it is temporary in nature, but it can be a factor to some.
As you go to Momarco from the Tanay-Sampaloc Road, there is but a bit short rough road, that I hope, local government can address, in support for a tourist attraction and business, that is paying taxes and generating jobs for locals.
It is very short rough road trip. Cars can pretty much go through it on a sunny day, but I wouldn't advise going with a small car during rainy days – for the time being.
Though during the time I was at Momarco, there was an ongoing road construction, which I hope will end straight the whole community that Momarco is residing. I hope the construction will be finished until the entrance of the resort.
CONCLUSION
In general, I find Momarco Resort and Hotel to be an escape from the busyness of the metropolis. It is a way to relax, enjoy at the same time have other activities to do on the side.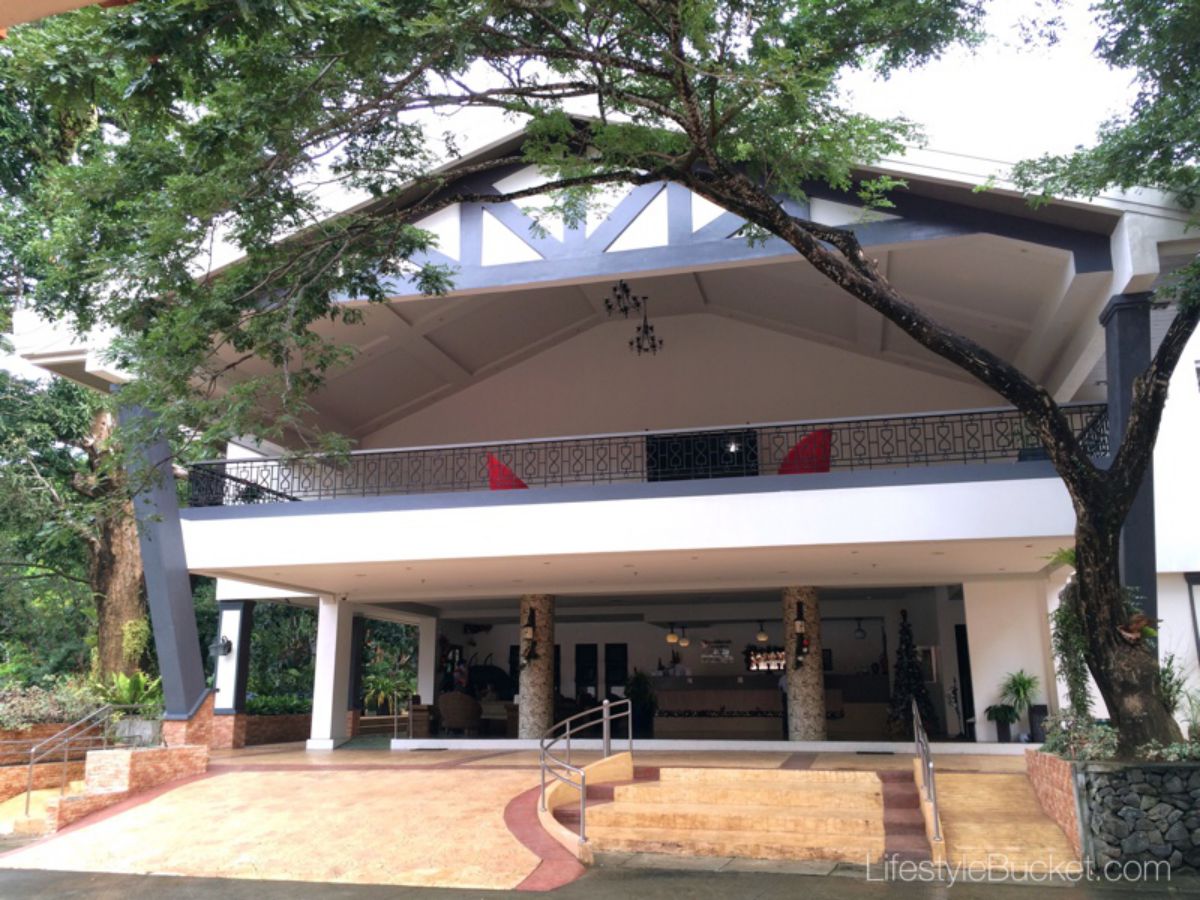 The room in the hotel is pretty solid to me. Neat, comfortable and spacious. Other accommodation options for budget-conscious individuals is a big plus.
Also, the lush forestry surrounding the resort is an add-on for those who want a bit of nature in their stay.
Momarco Resort and Hotel
Address: Sitio Bathala, Plaza Aldea, Tanay, Rizal
Contact numbers 0927-822-9865 | 0918-942-9873 | 546-0456 | 0917-8513623 | 0928-5595306
474-0912 | 427-7068
Website: http://www.momarcoresort.com/
Facebook: Momarco Facebook